Nanopartz™ Carbon Nanoparticles
Nanopartz™ now offers fluorescent carbon nanoparticlse (CNP) having sizes of 2-6 nm with quantum yields of about ~3%. These CNPs are nano-crystalline with predominantly graphitic structure and shows green, yellow, and red fluorescence under UV exposure. These CNP shows encouraging cell imaging application. They enter into cell without any further functionalization and fluorescence property of these particles can be used for fluorescence based cell imaging application.
| Part # | Color | Approx. Diameter (nm) | Excitation (MAX,nm) | Emission (MAX,nm) |
| --- | --- | --- | --- | --- |
| A51-2 | Green | 2 | 400 | 500 |
| A51-4 | Yellow | 4 | 400 | 560 |
| A51-6 | Red | 6 | 400 | 600 |
Composition
These carbon spherical gold nanoparticles are dry.
Custom Formulation
Diameters 2 to 6nm. Other sizes are special order. Please contact us.
Quantity
This product is available in 1mg and larger. For orders larger than 10mg, or for orders amounting over 50mg per annum, please contact sales for quantity pricing.
Introductory Kits
For smaller evaluation volumes, two different kits are available, one with 25mL volume with a four bottle minimum and one with 1mL with an 8 bottle minimum.
Delivery
Standard sizes are in stock. Special order sizes are shipped in two weeks or less. All domestic shipments are sent Fed Ex Standard Overnight delivery, international Fed Ex Priority 2 day. No shipments on Fridays except for dried particles. Saturday shipping available for extra charge.
Shelf Life/Storage Temperature
This product is guaranteed for six months and should be stored at 4 °C after opening. Care must be taken to only use sterile glassware when working with this product. For our dried particles, storage is room temperature with a shelf life of 1 year.
Toxicity
This product is known to be noncytotoxic. This product has been sterilized and is biological free.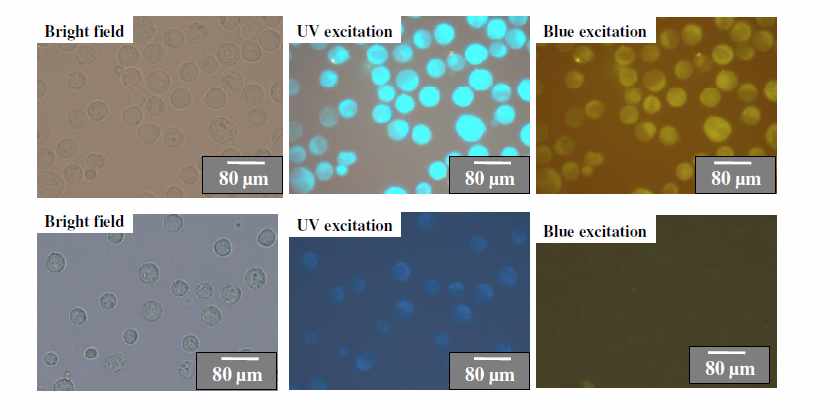 Fluorescent carbon nanoparticles (CNP) based labeling of Ehrlich ascites carcinoma cells (EAC) cells. Cells solution was mixed with CNP solution and incubated for 30 minutes. Washed cells were imaged under bright filed, UV and blue excitations. The bottom row images correspond to the control experiment where no CNP was used. Cells become bright blue-green under UV excitations and yellow under blue excitation, but they were colorless in the control sample. A light blue color of the control sample under UV excitation is due to well known auto-fluorescence of cell.
"We were previously making our own gold nanoparticles using the commonly used technique of citrate reduction of Au(III). The colloids generated are broadly polydisperse, and we were concerned that our application of these particles in immuno-gold labeling of cells for optical coherence microscopy (OCM) would be utilizing only the large diameter tail of the distribution. We purchased the sampler package of NanoPartz gold spheres (30 nm, 50 nm, 70 nm, 90 nm) and examined each size carefully with dynamic light scattering, OCM, and spectrophotometry. Our measurements indicated diameters a couple nanometers larger than specifications (a result of measurements on the fully hydrated state?), and remarkable monodispersity - within specs. It is clear to us now that our early immuno-gold results were dominated by the largest diameter spheres of our early colloids. We are delighted by the NanoPartz monodisperse preparations and recommend them strongly!"

Dr. Richard C. Haskell 
Professor of Physics & Director of Physics Clinic 
Physics Department 
Harvey Mudd College



"The scientists at Nanopartz have developed a line of colloidal gold nanorods with extremely high monodispersity in size, shape, and mass. The surfactant layer is highly stable and readily displaced for biofunctionalization. In every test, in vitro and in vivo, these materials have exceeded our expectations."

Geoffrey A. von Maltzahn
NSF and Whitaker Graduate Fellow
Harvard-MIT Division of Health Sciences and Technology
Laboratory for Multiscale Regenerative Technologies